Almond Muffin in a Minute Recipe
---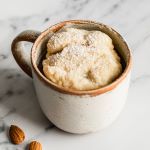 4.5g
Glucides nets Atkins™
Prep Time:3 Minutes
Style:American
Cook Time:1 Minutes
Phase:Phase 2
Difficulty:Moderate
* Any adjustments made to the serving values will only update the ingredients of that recipe and not change the directions.
Comment sont calculés les glucides nets?
---
INGREDIENTS
0 1/4cupBob's Red Mill Almond Meal/Flour (1/4 cup is 28g)

1tspNo Calorie Sweetener

0 1/4tspBaking Powder (Straight Phosphate, Double Acting)

1dashSalt

0 1/2tspCinnamon

1largeEgg (Whole)

1tspCanola Vegetable Oil
DIRECTIONS
Place all dry ingredients in a coffee mug. Stir to combine.
Add the egg and oil. Stir until thoroughly combined.
Microwave for 1 minute. Use a knife if necessary to help remove the muffin from the cup, slice, butter, eat.
Note: Your MIM can be toasted once it's cooked and topped with cream cheese if you like. Replace the cinnamon with other spices, sugar-free syrup or 1/2 tsp unsweetened cocoa (net carb count will be .2g higher). Add a tablespoon of sour cream for a moister MIM. Change the shape by making it in a bowl.
Cooking Tip
Stirring the dry ingredients is a very important step to make sure your MIM bakes evenly.