Antioxidant Berry Smoothie Recipe
---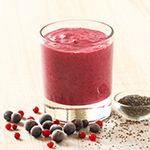 7.1g
Glucides nets Atkins™
Prep Time:0 Minutes
Style:American
Cook Time:0 Minutes
Phase:Phase 2
Difficulty:Moderate
* Any adjustments made to the serving values will only update the ingredients of that recipe and not change the directions.
Comment sont calculés les glucides nets?
---
INGREDIENTS
2tbspORGANIC CHIA SEED Barlean's Organic Oils LLC

0 2/3cupVanilla Whey Protein

0 1/2tspCINNAMON Sugar 'N Spice, Inc.

1tspVanilla Extract

0 3/4cupCoconut Milk (canned)

0 1/2tspTurmeric (Ground)

0 1/2cupFrozen Berries - Kirkland Nature's Three Berries
DIRECTIONS
Berries are bursting with antioxidants like anthocyanins the colorful antioxidant pigment responsible for the dark blues and purple to reds you'll see in berries. This same antioxidant is being studying for a wide range of detox benefits from heart to liver and skin.
Place the berries, coconut milk, protein powder, chia seeds, cinnamon or cardamom, turmeric, and vanilla extract in a blender. Add ½ cup cold water and 4 ice cubes, blend until smooth and serve immediately.
Cooking Tip
Whether you're feeding a family or cooking for one, you can update the serving settings above to reveal the required amount of ingredients.