Baked Salmon With Charmoula Over Broccoli Recipe
---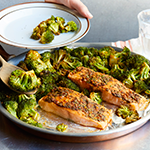 9.9g
Glucides nets Atkins™
Prep Time:0 Minutes
Style:Mediterranean/Greek
Cook Time:0 Minutes
Phase:Phase 2
Difficulty:Difficult
* Any adjustments made to the serving values will only update the ingredients of that recipe and not change the directions.
Comment sont calculés les glucides nets?
---
INGREDIENTS
0 1/4ozCilantro

0 1/4ozParsley

1cloveGarlic

1fruit (2-1/8" dia)Lemon

0 1/2tspCumin

0 1/2tspPaprika

0 1/4tspCoriander Seed

0 1/8tspRed or Cayenne Pepper

2tablespoonOlive Oil

0 1/2tspSalt

0 1/2tspBlack Pepper

12ozBroccoli

12oz, boneless, rawSalmon
DIRECTIONS
Preheat oven to 350°F.  Line a sheet pan or glass cooking dish with aluminum foil and lightly grease it with oil.  
Finely mince the cilantro, parsley and garlic; place into a bowl.  Zest and juice the lemon and place into the bowl with the herbs and garlic.  Add the ground cumin, paprika, coriander, and cayenne.  Stir in 2 tbsp olive oil until well blended then season with the salt and black pepper; set aside.
Place the broccoli and fish in single layer on the pan.  Spoon the charmoula over the fish then bake for 20-25 minutes until the broccoli is softened and the fish is cooked through.  Transfer to a plate and enjoy.
Cooking Tip
Whether you're feeding a family or cooking for one, you can update the serving settings above to reveal the required amount of ingredients.