Basque Eggs with Ham, Tomatoes and Bell Peppers Recipe
---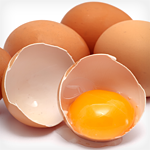 4.6g
Glucides nets Atkins™
Prep Time:30 Minutes
Style:French
Cook Time:12 Minutes
Phase:Phase 1
Difficulty:Difficult
* Any adjustments made to the serving values will only update the ingredients of that recipe and not change the directions.
Comment sont calculés les glucides nets?
---
INGREDIENTS
3tablespoonExtra Virgin Olive Oil

1medium (2-1/2" dia)Onions

3tspGarlic

8ozRoasted Bell Peppers

2plum tomatoRed Tomatoes

0 1/4tspRed or Cayenne Pepper

6tablespoonUnsalted Butter Stick

12largeEgg (Whole)

0 1/3cup(s)Basil, fresh (1 cup= 24 g)

6oz, boneless, cookedFresh Ham
DIRECTIONS
Heat oil in large heavy skillet over medium heat. Sauté diced onion 5 minutes, until softened; add minced garlic and cook 1 minute more.
Add diced roasted peppers, diced tomatoes, and cayenne. Cover and cook 10 minutes, until vegetables are very soft, stirring occasionally.
Uncover and simmer over medium heat until sauce is thick, about 10 minutes, stirring often. Season to taste with salt and pepper. (Mixture can be made up to 2 days ahead and reheated).
In large bowl, beat eggs until blended. In large nonstick skillet, melt butter over low heat. Add eggs and basil. Cook, stirring constantly with rubber spatula, 12 minutes, until soft curds form and eggs are barely set.
Add pepper mixture and ham; stir just until mixed.
Cooking Tip
Whether you're feeding a family or cooking for one, you can update the serving settings above to reveal the required amount of ingredients.