Keto Blackened Salmon Recipe
---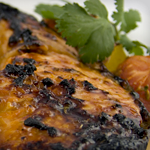 0.2g
Glucides nets Atkins™
Prep Time:5 Minutes
Style:American
Cook Time:6 Minutes
Phase:Phase 1
Difficulty:Moderate
* Any adjustments made to the serving values will only update the ingredients of that recipe and not change the directions.
Comment sont calculés les glucides nets?
---
INGREDIENTS
1dashBLACK PEPPER Finlay Extracts & Ingredients USA, Inc.

1tbspOld Bay Seasoning

3tspTHYME Sugar 'N Spice, Inc.

0 1/4cupVEGETABLE OIL Topco Associates, Inc.

24oz, boneless, rawSALMON Changing Seas

1tspSALT Morton Salt, Inc.

3tsp, leavesOREGANO Colonna Brothers
DIRECTIONS
Although tu
na and catfish are more often cooked this way, blackened salmon is also delicious. The contrast in texture and heat between the crusty, spicy rub and tender, almost sweet fish is delightful.
Combine thyme, oregano, Old Bay seasoning, salt and pepper in a small bowl. Coat each piece of fish with 2 teaspoons of oil; press spice rub into flesh on both sides.
With an exhaust fan or other good ventilation, heat remaining 4 teaspoons oil in a large cast-iron skillet over medium-high heat. Add fish and sear until coating is black, about 3 minutes per side.
Serve right away. 
Original recipe created for Atkins by Courtney Thorne-Smith.
Cooking Tip
Whether you're feeding a family or cooking for one, you can update the serving settings above to reveal the required amount of ingredients.