Butternut Squash and Escarole Gratin Recipe
---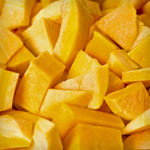 19.1g
Glucides nets Atkins™
Prep Time:30 Minutes
Style:French
Cook Time:60 Minutes
Phase:Phase 4
Difficulty:Difficult
* Any adjustments made to the serving values will only update the ingredients of that recipe and not change the directions.
Comment sont calculés les glucides nets?
---
INGREDIENTS
3tablespoonUnsalted Butter Stick

16ozEscarole

2 1/2lbButternut Winter Squash

0 1/2tspSalt

0 1/4tspBlack Pepper

3eachLeeks

1fl ozWater

1cupHeavy Cream

0 1/2cupChicken Broth, Bouillon or Consomme

2tspThick-It-Up

1cup, shreddedGruyere Cheese

2tbspParmesan Cheese (Grated)
DIRECTIONS
Butter a 6- to 8-cup baking dish. Set oven rack in upper third of oven and heat oven to 400F.
Bring 3 inches of water to boil in a large saucepan. Add escarole and cook, stirring, until tender, 3 to 5 minutes. Drain in a colander and rinse under cold running water. Gently squeeze to remove as much moisture as possible.
Melt 1 tablespoon of the butter in a medium nonstick skillet over medium-high heat. Add half of the squash and season with 1/4 teaspoon of the salt and 1/8 teaspoon of the pepper; cook, turning occasionally, until lightly browned and nearly tender, about 8 minutes. Transfer to baking dish. Repeat and reserve.
Melt remaining tablespoon butter in skillet over medium-low heat. Add leeks and season with remaining 1/4 teaspoon salt; cook, stirring, 3 minutes. Add water, cover and cook, stirring occasionally, until tender, about 3 minutes. Stir in escarole and cook until heated through; spoon over squash in baking dish.
Top with reserved squash.
Wipe out skillet. Combine cream, broth and thickener in skillet, whisking until blended. Cook over medium heat, stirring, until thickened, about 2 minutes. Remove from heat and stir in Gruyre until melted.
Pour sauce over vegetables, spreading evenly. Sprinkle Parmesan on top and bake until bubbly and golden brown on top, about 30 minutes. Let stand 10 minutes before serving.
Cooking Tip
Whether you're feeding a family or cooking for one, you can update the serving settings above to reveal the required amount of ingredients.