Cauliflower and Green Bean Stir-Fry with Oyster Sauce Recipe
---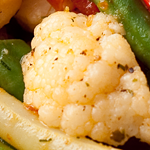 5.2g
Glucides nets Atkins™
Prep Time:15 Minutes
Style:Asian
Cook Time:10 Minutes
Phase:Phase 2
Difficulty:Difficult
* Any adjustments made to the serving values will only update the ingredients of that recipe and not change the directions.
Comment sont calculés les glucides nets?
---
INGREDIENTS
1 1/4lbCauliflower

4ozGreen Snap Beans

2tbspTamari Soybean Sauce

1teaspoonSucralose Based Sweetener (Sugar Substitute)

2tbspCanola Vegetable Oil

2tspGinger

1eachGarlic, clove

3medium (4-1/8" long)Scallions or Spring Onions

0 1/4cupTap Water

2tbspOyster Sauce

0 1/8cup, sliveredAlmonds
DIRECTIONS
Steam or boil cauliflower and green beans 6-7 minutes, until tender; drain. Place in a large bowl, add soy sauce and sugar substitute; toss to coat.
Heat oil in a wok or large skillet over medium-high heat. While oil is heating mince the ginger and garlic then add to the hot oil. Stir-fry until fragrant, about 15 seconds. Add Dice the green onions and add to the pan.  Continue to cook until green onions soften, about 2 minutes. Add cauliflower and green beans; mix well. Add water and oyster sauce; bring to a boil. Cook 1-2 minutes.
Transfer to a serving bowl; sprinkle with almonds.
Cooking Tip
Whether you're feeding a family or cooking for one, you can update the serving settings above to reveal the required amount of ingredients.