Keto Cheddar Omelet with Avocado and Salsa Recipe
---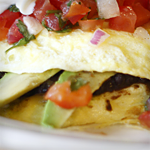 4.3g
Glucides nets Atkins™
Prep Time:5 Minutes
Style:American
Cook Time:10 Minutes
Phase:Phase 1
Difficulty:Moderate
* Any adjustments made to the serving values will only update the ingredients of that recipe and not change the directions.
Comment sont calculés les glucides nets?
---
INGREDIENTS
1tspCanola Vegetable Oil

2largeEgg (Whole)

1ozCheddar Cheese

0 1/2fruit without skin and seedsCalifornia Avocados

1ozSalsa
DIRECTIONS
Heat oil in a nonstick skillet over medium high heat.  Add slightly beaten eggs to skillet.  Cook 3 minutes, flip over, cook other side for 2 minutes.    
Add shredded Cheddar and avocado to half of the omelet.  Flip other half over top.  Cook an additional 1-2 minutes to melt cheese. 
Top with salsa and serve immediately.
Cooking Tip
Whether you're feeding a family or cooking for one, you can update the serving settings above to reveal the required amount of ingredients.