Chicken and Beef Satays with Peanut Dipping Sauce Recipe
---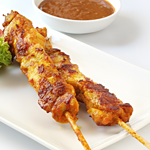 3.9g
Glucides nets Atkins™
Prep Time:5 Minutes
Style:Asian
Cook Time:20 Minutes
Phase:Phase 2
Difficulty:Difficult
* Any adjustments made to the serving values will only update the ingredients of that recipe and not change the directions.
Comment sont calculés les glucides nets?
---
INGREDIENTS
1cupHeavy Cream

0 1/2smallOnions

3tspGarlic

4tspCurry Powder

1 1/2tspCumin

0 1/2tspRed or Cayenne Pepper

1 1/2tspSalt

8oz*Chicken Breast (raw, boneless, skinless)

8ozBeef, round steak

0 1/3cupNatural Creamy Peanut Butter 1/3 Less Sodium & Sugar

0 1/3cupTap Water

1fl ozFresh Lime Juice

2tbspTamari Soybean Sauce

2teaspoonSucralose Based Sweetener (Sugar Substitute)
DIRECTIONS


Soak skewers in cold water for at least 20 minutes (this prevents burning). In a blender, combine cream, white onion, 4 cloves garlic, curry powder, cumin, cayenne and salt; blend until smooth.


Transfer to a bowl and add chicken and beef strips; toss to coat. Cover and marinate at room temperature 15 minutes. Make dipping sauce: In a blender, combine peanut butter, water, remaining garlic, lime juice, tamari and sugar substitute and blend until smooth. Transfer to a small bowl. (Sauce can be prepared up to 2 days ahead of time, cover and refrigerate.)


Heat broiler. Thread chicken and beef strips onto the skewers without crowding. Place on an oiled rack in a broiler pan and broil until cooked through, turning once, about 5 minutes. Serve with the dipping sauce.


Cooking Tip
Whether you're feeding a family or cooking for one, you can update the serving settings above to reveal the required amount of ingredients.