Keto Chicken and Green Chili Tots Recipe
---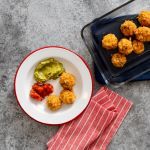 0.7g
Glucides nets Atkins™
Prep Time:15 Minutes
Style:Mexican
Cook Time:25 Minutes
Phase:Phase 1
Difficulty:Difficult
* Any adjustments made to the serving values will only update the ingredients of that recipe and not change the directions.
Comment sont calculés les glucides nets?
---
INGREDIENTS
19ozChicken Thighs - Boneless, Skinless (15% chicken broth, sea salt, natural flavorings)

0 1/3cup, shreddedCheddar Cheese

0 1/3cupKroger Riced Cauliflower, frozen (85g per 3/4 cup)

0 3/8cupGreen Chili Peppers, canned

1eachEgg

0 1/4tspSalt

0 1/4tspBlack Pepper, ground

85 1/24gram(s)pork rinds, Mac's Salt & Pepper Pork Skins 1/2 oz
DIRECTIONS
Preheat air fryer to 400°.

Dice chicken. In a large bowl combine chicken, cheese, cauliflower rice, green chili, egg, salt, and pepper. Mix until well combined and coated.

In a medium bowl, crush the pork rinds into a sand like texture. Measure out about 1/8 cup of the chicken mixture and use your hands to form into a loose ball. Gently roll in the crushed pork rinds to coat. Repeat until all chicken mixture is used, making about 20 tots for 4 servings of the recipe.

Cook in the air fryer, in batches if needed, for 8 minutes, or to an internal temperature of 165°. Serve with a dipping sauce if desired. One serving is four tots.
Cooking Tip