Creamy Spinach and Parmesan Puff Recipe
---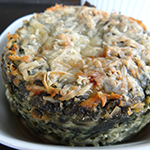 2.2g
Glucides nets Atkins™
Prep Time:10 Minutes
Style:American
Cook Time:30 Minutes
Phase:Phase 1
Difficulty:Difficult
* Any adjustments made to the serving values will only update the ingredients of that recipe and not change the directions.
Comment sont calculés les glucides nets?
---
INGREDIENTS
2largeEgg (Whole)

1cupHeavy Cream

0 1/4tspNutmeg (Ground)

1lbSpinach

4ozParmesan Cheese (Shredded)
DIRECTIONS
Use either fresh or frozen chopped spinach for this recipe.  For the frozen:  thaw first and squeeze out any excess moisture.  For fresh:  chop it and then place into a microwave safe bowl.  Heat for 1 minute intervals until it is cooked, drain and cool to room temperature.
Prepare a 1-quart souffle dish with a small amount of oil.
In a small bowl, whisk together the eggs, cream and nutmeg.  Add the spinach and cheese (leaving 1/4 cup cheese for the top) mixing to combine.
Pour into the prepared dish, top with reserved cheese and bake at 350°F for 30 minutes until puffed and golden on top.  Serve immediately.
Cooking Tip
Whether you're feeding a family or cooking for one, you can update the serving settings above to reveal the required amount of ingredients.