Crunchy Tropical Berry and Almond Breakfast Parfait Recipe
---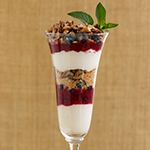 10.8g
Glucides nets Atkins™
Prep Time:20 Minutes
Style:American
Cook Time:0 Minutes
Phase:Phase 2
Difficulty:Moderate
* Any adjustments made to the serving values will only update the ingredients of that recipe and not change the directions.
Comment sont calculés les glucides nets?
---
INGREDIENTS
0 1/2cupHeavy Cream

1 1/2teaspoonSucralose Based Sweetener (Sugar Substitute)

0 1/4tspCoconut Extract

0 1/2cup2% Plain Greek Yogurt

1cupRed Raspberries

1cupBlueberries

0 1/2cupDried Coconut
DIRECTIONS
Use the Atkins recipe to make
Sweet and Salty Almonds
for this recipe, you will need 1/2 cup.  
Combine cream, 1/2 teaspoon sugar substitute, and coconut (or vanilla) extract in a medium bowl; whip with an electric mixer on medium speed until stiff peaks form.  Fold in the yogurt.  
Puree raspberries and remaining sugar substitute in a blender until smooth.  
Using 4 parfait glasses, alternate layers of whipped cream, raspberry puree, blueberries, nuts, and coconut, making two layers of each.  Serve right away.
Find this recipe and more in the New Atkins For a New You Cookbook!  
Cooking Tip
Whether you're feeding a family or cooking for one, you can update the serving settings above to reveal the required amount of ingredients.