Eggplant and Red Pepper Sauté Recipe
---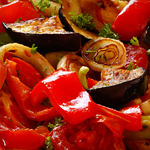 6g
Glucides nets Atkins™
Prep Time:5 Minutes
Style:Other
Cook Time:18 Minutes
Phase:Phase 1
Difficulty:Difficult
* Any adjustments made to the serving values will only update the ingredients of that recipe and not change the directions.
Comment sont calculés les glucides nets?
---
INGREDIENTS
0 1/4cupExtra Virgin Olive Oil

1eggplant, unpeeled (approx 1-1/4 lb)Eggplant

1smallOnions

1medium (approx 2-3/4" long, 2-1/2" dia)Sweet Red Peppers

1tspGarlic

1cupDiced Tomatoes

1tbspFresh Lemon Juice

1teaspoonSucralose Based Sweetener (Sugar Substitute)
DIRECTIONS
Japanese eggplants may be substituted for a regular eggplant in this recipe.
Heat 2 tablespoons oil in a large skillet over medium-high heat.  Cut eggplant into cubes.  slice onion and red pepper and set them aside.
Cook eggplant cubes 5 minutes, until golden. Transfer to a bowl.  
Add remaining oil to skillet. Cook white onion and red pepper 5 minutes, until vegetables are softened. Add minced garlic and cook 1 minute more. Mix in tomatoes, lemon juice, and sugar substitute.
Return eggplant to skillet; cook 6-8 minutes, stirring occasionally, until vegetables are tender, and sauce thickens slightly. Season to taste with salt and pepper.
Cooking Tip
Whether you're feeding a family or cooking for one, you can update the serving settings above to reveal the required amount of ingredients.