Grilled Chicken over Baby Spinach, Tomato and Avocado Salad Recipe
---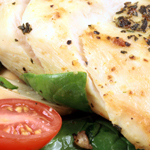 6g
Glucides nets Atkins™
Prep Time:5 Minutes
Style:American
Cook Time:10 Minutes
Phase:Phase 1
Difficulty:Moderate
* Any adjustments made to the serving values will only update the ingredients of that recipe and not change the directions.
Comment sont calculés les glucides nets?
---
INGREDIENTS
6ozChicken Breast Filet, skinless

2cupBaby Spinach

0 1/2large whole (3" dia)Red Tomatoes

0 1/2fruit without skin and seedsCalifornia Avocados
DIRECTIONS
Use the Atkins recipe to make Sweet Mustard Dressing; you will need 2 tablespoons.  For a different taste be sure the dressing you choose is less than 2g NC per serving (2 tbsp)
Preheat a grill and season chicken with salt and freshly ground black pepper. 
Grill over medium heat until juices run clear and it is no longer pink in the center.   
Combine the baby spinach, tomato and avocado with the dressing.  Top with grilled chicken and serve immediately.
Cooking Tip
Feel free to swap in your favorite lettuce for this recipe, as net carb change will likely be minimal.