Individual Keto Breakfast Mexi Pepper Recipe
---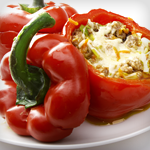 5.1g
Glucides nets Atkins™
Prep Time:30 Minutes
Style:American
Cook Time:30 Minutes
Phase:Phase 1
Difficulty:Difficult
* Any adjustments made to the serving values will only update the ingredients of that recipe and not change the directions.
Comment sont calculés les glucides nets?
---
INGREDIENTS
0 1/2medium (approx 2-3/4" long, 2-1/2" dia)SWEET RED PEPPERS La Cena Fine Foods, Ltd.

1largeEgg (Whole)

1ounceGround Beef (80% Lean / 20% Fat)

2tbsp choppedOnions

0 1/4ozCHEDDAR CHEESE Pineland Farms Potato Company Inc.

1ozPork and Beef Chorizo
DIRECTIONS
Preheat oven to 400°F and line a baking sheet with foil. Cook chorizo and drain off excess fat.
Place chorizo in mixing bowl and combine with the beef, white onion, cheese and eggs.
Prepare bell pepper by cutting in half lengthwise. Scoop out seeds and cut away rib (white part). 
Fill pepper with the meat mixture and place on the prepared baking sheet. Bake for 25 - 30 minutes and serve hot.
Cooking Tip
Whether you're feeding a family or cooking for one, you can update the serving settings above to reveal the required amount of ingredients.