Keto Orange-Herb Pork Roast with Bourbon Sauce Recipe
---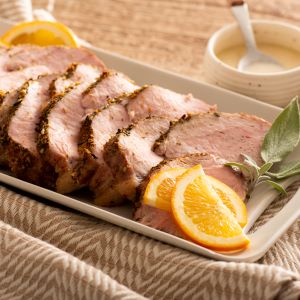 1.2g
Glucides nets Atkins™
Prep Time:25 Minutes
Style:American
Cook Time:70 Minutes
Phase:Phase 2
Difficulty:Difficult
* Any adjustments made to the serving values will only update the ingredients of that recipe and not change the directions.
Comment sont calculés les glucides nets?
---
INGREDIENTS
0 1/2tspBlack Pepper

1tsp, leavesThyme (Dried)

2lbPork Chops or Roasts (Center Loin, Bone-In)

1 1/2cupTap Water

2tspGarlic

0 1/2cupHeavy Cream

1 1/2tspSage (Ground)

4fl ozBourbon

2tspOrange Zest

0 1/2tspSalt

1cupChicken Broth, Bouillon or Consomme
DIRECTIONS
Heat oven to 375°F. Spray a shallow roasting pan with vegetable cooking spray. On a cutting board, combine sage, garlic, orange zest, thyme, salt and pepper. Using a sharp knife, mince mixture, then mash with flat side of knife to make a paste.
Rub paste over surface of pork. Place pork fat-side down in prepared pan. Add 1 cup water to pan. Roast 30 minutes. Turn pork over; add remaining 1/2 cup water to pan if it dries out while cooking.
Roast 30 to 40 minutes more, until a meat thermometer inserted into center of pork registers 160°F for medium, 170°F for well-done.
Transfer pork to a cutting board; cover loosely with foil and let stand while making sauce.
To make Bourbon Sauce, add chicken broth to roasting pan and bring to a boil over medium-high heat, scraping up any browned bits from pan.
Add bourbon and cream. Boil, stirring frequently, until sauce reduces to about 3/4 cup, or until it lightly coats the back of a spoon, about 10 minutes. Slice roast and serve with sauce.
Cooking Tip
Whether you're feeding a family or cooking for one, you can update the serving settings above to reveal the required amount of ingredients.