Keto Peanut Butter Cookie Dough Bites Recipe
---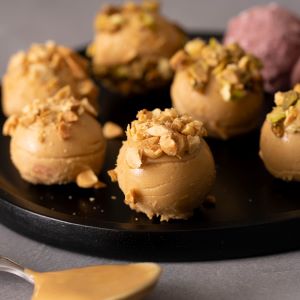 1.4g
Glucides nets Atkins™
Prep Time:40 Minutes
Style:American
Cook Time:0 Minutes
Phase:Phase 2
Difficulty:Easy
* Any adjustments made to the serving values will only update the ingredients of that recipe and not change the directions.
Comment sont calculés les glucides nets?
---
INGREDIENTS
3tbspbutter, unsalted

1PinchSalt

1 1/2tablespoonConfectioners (powdered) erythritol

0 1/2teaspoonSweetLeaf Stevia Sweetener (with inulin)

6 1/2gPOWDERED PEANUT BUTTER PB2

0 1/2tspVanilla extract

2TbspCoconut Flour

11gPistachios, hulled, roasted, salted

2TbspPeanut Butter, natural creamy
DIRECTIONS
In the bowl of a stand mixer, cream together room temperature butter, confectioners erythritol, stevia and salt until lightened and well mixed, about 3 minutes. Add flour, peanut butter, peanut butter powder and vanilla and mix on lower power until combined, then increase the speed, scrape down the sides, and mix until fully blended.
Using ½-ounce silicone molds, portion 1 tablespoon of dough (about 14 grams) into 8 wells. Place in the freezer until solidified, about 30 minutes. Pop the bites out of the mold and set aside at room temperature for 10 minutes. Chop either 11 grams of pistachios or peanuts (optional) or mix together 2 grams (1/2 teaspoon) beet powder with 6 grams confectioners erythritol (2 teaspoons) (also optional). Roll the tops of the bites in the chopped nuts or sweetened beet powder.
Store in an airtight container in the refrigerator for up to 5 days. One serving is one cookie dough ball.
Cooking Tip