Low Carb Banana Bread Overnight Oats & Chia Recipe
---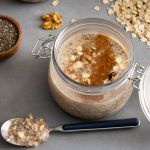 15.6g
Glucides nets Atkins™
Prep Time:245 Minutes
Style:American
Cook Time:0 Minutes
Phase:Phase 3
Difficulty:Moderate
* Any adjustments made to the serving values will only update the ingredients of that recipe and not change the directions.
Comment sont calculés les glucides nets?
---
INGREDIENTS
1cupAlmond Milk, plain, unsweetened

11 1/4gramsWhey Protein Concentrate (30g=1/3 cup)

1tbspMaple Syrup (sugar-free)

0 1/3tablespoonBanana flavor

0 1/4tspVanilla Extract

0 1/4tspCinnamon, ground

3tablespoon(s)Oats, quick cooking, raw (1 tbsp= 6 g)

2TbspChia Seeds

12eachWalnut Halves, raw
DIRECTIONS
In a blender, combine almond milk, protein powder, sweetener, banana flavor, vanilla extract, and cinnamon on medium speed until well combined.
In a pint size glass jar with tight fitting lid, stir together the oats, chia seeds and roughly chopped walnuts. Pour the milk combination over the top and stir to combine. Attach the lid and refrigerate for at least 4 hours, or overnight, shaking or stirring after about one hour. 
Cooking Tip