Low Carb Chocolate, Caramel Custard, and Cheesecake Parfait Recipe
---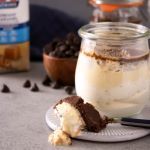 4.7g
Glucides nets Atkins™
Prep Time:145 Minutes
Style:American
Cook Time:15 Minutes
Phase:Phase 1
Difficulty:Difficult
* Any adjustments made to the serving values will only update the ingredients of that recipe and not change the directions.
Comment sont calculés les glucides nets?
---
INGREDIENTS
1largeEgg Yolk

0 1/2cupHeavy Cream, liquid

2TbspCream, heavy, liquid

0 1/4cupLily's Sugar Free Chocolate Chips

2pinch (1/32 tsp)Pure Powdered Stevia

4TbspSour Cream

0 1/2tspVanilla Extract

3tablespoonConfectioners (powdered) erythritol

2tbspSugar-Free Flavored Syrup - Caramel

0 35/48eachAtkins Creamy Caramel Shake

1 1/2teaspoon(s)Lemon juice, fresh

4ozCream Cheese

0 1/4tspdry gelatin, unsweetened USDA

1TbspButter, salted or unsalted
DIRECTIONS
Make the no bake cheesecake layer. In a medium mixing bowl, use an electric mixer to combine softened cream cheese, sour cream, confectioners' erythritol, lemon juice, vanilla extract, and stevia until fully combined and smooth.
In a separate medium bowl, use the hand mixer to whip ½ cup heavy cream to stiff peaks. Add half the whipped cream to the cream cheese mix and gently whip to combine. Add remaining whipped cream and mix again until incorporated. Evenly distribute between 4 (6 to 8-ounce) jelly jars or glasses, roughly 1/2 cup or about 75 grams per jar. Place in the refrigerator.
Make the caramel custard layer. Pour ¼ cup shake into a small bowl and sprinkle gelatin over the top; set aside. In a small sauce pan over medium heat, mix the remaining shake and caramel syrup, heating until steaming. In a slow stream, whisk about ½ of the warm shake into the egg yolk to temper. Add the egg mix back into the sauce pan in a thin stream, whisking constantly. Continue to cook over medium heat, whisking constantly and lowering heat if needed to keep it from boiling, until the mixture coats the back of a spoon, 6-8 minutes. Remove from heat and whisk in the gelatin and shake until fully combined and gelatin is dissolved. Pour into a flat bottom bowl and refrigerate for about 30 minutes, or until partly chilled.
Add a layer of ¼ cup shake custard to each of the jars and place back in the refrigerator until set, about 1 1/2 hours.
Make the chocolate ganache layer. In a small microwave safe bowl place the chocolate chips, 2 tablespoons heavy cream, and butter. Melt in the microwave in 20 second intervals, stirring between until smooth and all the chocolate is fully melted. Divide evenly over the top of each parfait, about 1 tablespoon each, and place parfaits back in the refrigerator until the chocolate is set, about 15 minutes. One parfait (1/2 cup cheesecake mixture, ¼ cup caramel custard, and 1 tablespoon chocolate ganache) is one serving.
Cooking Tip