Mexican Veal Sausages with Green Chili and Tortillas Recipe
---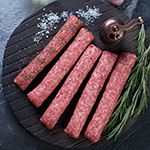 6.3g
Glucides nets Atkins™
Prep Time:5 Minutes
Style:Mexican
Cook Time:10 Minutes
Phase:Phase 3
Difficulty:Moderate
* Any adjustments made to the serving values will only update the ingredients of that recipe and not change the directions.
Comment sont calculés les glucides nets?
---
INGREDIENTS
1 1/2lbGround Veal

2largeScallions or Spring Onions

1ozCilantro (Coriander)

4tablespoonGreen Tomato Chile Sauce (Salsa Verde)

0 1/2tspCumin

0 1/2tspSalt

0 1/4tspBlack Pepper

2tbspLight Olive Oil

4tortillaLow Carb Tortillas

0 1/4cupSour Cream (Cultured)

1fruit (2" dia)Lime
DIRECTIONS
In a large bowl, mix veal, diced onion, minced cilantro, 2 tablespoons salsa, cumin, salt and pepper gently, until just combined. Shape into four sausage shapes.
Heat oil in a large nonstick skillet over medium heat until very hot. Cook sausages turning occasionally for even browning, until cooked through, about 8 to 10 minutes.
Serve wrapped in heated low-carb tortillas garnished with the remaining 2 Tbsp salsa, sour cream and lime.
Cooking Tip
Whether you're feeding a family or cooking for one, you can update the serving settings above to reveal the required amount of ingredients.