Milk Chocolate Protein Muffin Recipe
---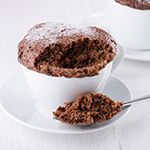 3.2g
Glucides nets Atkins™
Prep Time:5 Minutes
Style:American
Cook Time:1 Minutes
Phase:Phase 1
Difficulty:Moderate
* Any adjustments made to the serving values will only update the ingredients of that recipe and not change the directions.
Comment sont calculés les glucides nets?
---
INGREDIENTS
2TbspCream Cheese, original

1eachEgg

0 1/2scoop (1 scoop= 30 g)Quest Chocolate Milkshake Protein Powder

0 1/2tspCinnamon, ground

0 1/4tspBaking Powder

1dashSalt
DIRECTIONS
In a microwave safe mug heat the cream cheese for 10-15 seconds to soften it.  Add the egg and blend together briskly using a fork.   Add protein powder, baking powder, cinnamon and salt; blend until smooth.
Microwave on high for 1 minute, it will puff up and then deflate slightly once done.  Remove from mug immediately and enjoy warm.
*15g = 1/2 scoop Protein Powder.
Cooking Tip
We love the idea of customizing this recipe to make it your own! If you add any ingredients, just be sure to keep an eye on net carbs.