---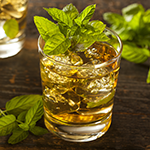 0.3g
Glucides nets Atkins™
Prep Time:5 Minutes
Style:American
Cook Time:0 Minutes
Phase:Phase 2
Difficulty:Moderate
* Any adjustments made to the serving values will only update the ingredients of that recipe and not change the directions.
Comment sont calculés les glucides nets?
---
INGREDIENTS
2fl oz (no ice)Bourbon

0 1/2teaspoonSucralose Based Sweetener (Sugar Substitute)

6leavesPeppermint (Mint)

1tspTap Water
DIRECTIONS
In the bottom of a medium glass, combine sugar substitute to taste, 6 mint leaves and 1 teaspoon water.
Crush the mint lightly with the handle of a wooden spoon. Fill glass with crushed ice.
When frost forms on the glass, slowly pour in bourbon. Garnish with mint sprig.
Cooking Tip
Why not have friends over to enjoy this drink! Update the serving settings above to reveal the required amount of ingredients you'll need.