Poached Eggs over Tomato, Avocado and Muenster Recipe
---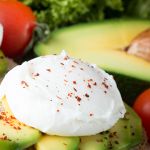 3.8g
Glucides nets Atkins™
Prep Time:5 Minutes
Style:American
Cook Time:5 Minutes
Phase:Phase 1
Difficulty:Moderate
* Any adjustments made to the serving values will only update the ingredients of that recipe and not change the directions.
Comment sont calculés les glucides nets?
---
INGREDIENTS
2largeEgg (Whole)

0 1/3medium whole (2-3/5" dia)Red Tomatoes

0 1/2fruit without skin and seedsCalifornia Avocados

1ozMuenster Cheese
DIRECTIONS
Poach eggs: add 2 to 3 inches of water with a pinch of salt to a saucepan. Bring to a boil; then turn down heat and allow water to simmer until barely any bubbles remain around the edges. Crack an egg into a cup and carefully slide it into the water. Cook 2 minutes for a runny yolk, 3 minutes for medium firmness and 4 minutes for a firm yolk. Remove with a slotted spoon. Gently pat with a paper towel to remove excess water.  

Slice tomato and avocado.  Place tomato slices on a plate, top with avocado, cheese and finally the eggs. 

Sprinkle with paprika (if desired), and season to taste with salt and freshly ground black pepper.
Cooking Tip
Whether you're feeding a family or cooking for one, you can update the serving settings above to reveal the required amount of ingredients.