Keto Ricotta-Filled Pancakes Recipe
---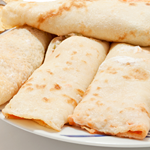 5.4g
Glucides nets Atkins™
Prep Time:10 Minutes
Style:Other
Cook Time:5 Minutes
Phase:Phase 2
Difficulty:Moderate
* Any adjustments made to the serving values will only update the ingredients of that recipe and not change the directions.
Comment sont calculés les glucides nets?
---
INGREDIENTS
3TbspWhole Grain Soy Flour

0 1/4tspSalt

0 1/3cupHeavy Cream

0 3/4cupRicotta Cheese (Whole Milk)

3largeEgg (Whole)

4tbspSugar Free Red Raspberry Preserves

2tspNo Calorie Sweetener

1 1/2tablespoonUnsalted Butter Stick
DIRECTIONS
In a medium bowl, whisk eggs, soy flour and salt until smooth. Gradually whisk in cream. Let stand 5 minutes. In another bowl mix ricotta, fruit spread and sugar substitute.
Melt butter in a small, 6-inch nonstick skillet over medium heat. Spoon batter into pan (using 2 tablespoons) and tilt pan coat bottom. Cook until puffed and golden on bottom, about 3 minutes; turn over and cook 1 minute more. Transfer to a plate. Repeat with remaining batter.
Spread pancakes with ricotta mixture, roll and serve.
Cooking Tip
Whether you're feeding a family or cooking for one, you can update the serving settings above to reveal the required amount of ingredients.