Keto Salmon Rillettes Recipe
---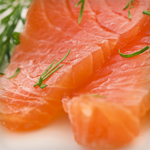 1.8g
Glucides nets Atkins™
Prep Time:135 Minutes
Style:Other
Cook Time:10 Minutes
Phase:Phase 1
Difficulty:Difficult
* Any adjustments made to the serving values will only update the ingredients of that recipe and not change the directions.
Comment sont calculés les glucides nets?
---
INGREDIENTS
0 1/8tspBLACK PEPPER Finlay Extracts & Ingredients USA, Inc.

4oz, boneless, rawSALMON Changing Seas

0 1/2fl ozFresh Lemon Juice

0 1/2cupTap Water

1cucumber (8-1/4")Cucumber (with Peel)

0 1/4cupUnsalted Butter Stick

0 43/48tbsp freshDill

1tbsp choppedChives

3ozSmoked Chinook Salmon (Lox)

0 1/2tspLemon Zest
DIRECTIONS
In a small saucepan, combine the wild salmon and water; bring to a boil over medium-high heat. Reduce heat to medium-low, cover, and simmer until salmon is opaque throughout, about 7 minutes. Transfer to a plate, and let stand until cool.
In a food processor, combine butter and smoked salmon; process until smooth. Flake wild salmon in a large bowl. Add the smoked salmon mixture, lemon zest, lemon juice, dill, chives and pepper. Stir well to combine.
Spoon the mixture into a small bowl or two small ramekins. Cover, and refrigerate at least 2 hours or overnight.
Remove rillettes from refrigerator 1 hour before serving to soften.
Serve spread with cucumber slices.
Cooking Tip
Having a party? When planning your low carb spread, think about which dishes you can make in advance and which need fresh ingredients that day.