Sautéed Snap Peas and Cucumbers with Shallot and Dill Recipe
---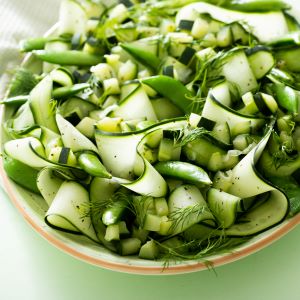 6.9g
Glucides nets Atkins™
Prep Time:15 Minutes
Style:American
Cook Time:6 Minutes
Phase:Phase 1
Difficulty:Moderate
* Any adjustments made to the serving values will only update the ingredients of that recipe and not change the directions.
Comment sont calculés les glucides nets?
---
INGREDIENTS
0 1/2tspSalt

4cucumber (8-1/4")Cucumber (with Peel)

1tbspLight Olive Oil

0 1/8tspBlack Pepper

1tbsp choppedShallots

1ozDill

12ozCooked Snowpea (Pea Pod, from Fresh)
DIRECTIONS
Chop 2 cucumbers and use a mandolin slicer or vegetable peeler to create ribbons from the remaining 2 cucumbers. Place the cucumber ribbons on a large serving plate and set aside.
In a 12-inch non-stick skillet over medium high heat, warm oil. Add shallot and sauté until softened, about 1 minute. Add snap peas, cucumber, salt and pepper and cook 5 minutes, until cucumber is just softened and vegetables are warmed through. Sprinkle with dill, toss to combine and arrange over the cucumber ribbons. Serve warm. Each serving is 1 ¼ cups.
Cooking Tip
Whether you're feeding a family or cooking for one, you can update the serving settings above to reveal the required amount of ingredients.