Sautéed Winter Greens Recipe
---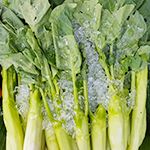 6.6g
Glucides nets Atkins™
Prep Time:25 Minutes
Style:American
Cook Time:15 Minutes
Phase:Phase 1
Difficulty:Moderate
* Any adjustments made to the serving values will only update the ingredients of that recipe and not change the directions.
Comment sont calculés les glucides nets?
---
INGREDIENTS
1lbKALE Publix Super Markets, Inc.

1lbSwiss chard

2tbspLight Olive Oil

0 1/8tspCrushed Red Pepper Flakes

0 1/2tspSALT Morton Salt, Inc.

1small (5 per pound)Red Sweet Pepper

2tbsp choppedShallots
DIRECTIONS
Remove tough stems of the greens and coarsely chop. 
Bring a large pot of lightly salted water to boil. Add kale and Swiss chard; cook 3 minutes. Transfer to a colander and drain well.
In same pot, heat oil over medium-low heat. Add dice bell pepper and shallot. Cook until softened, about 5 minutes.
Return greens to pot; add salt, and red pepper flakes to taste. Sauté until greens are tender, about 5 minutes.
Cooking Tip
Whether you're feeding a family or cooking for one, you can update the serving settings above to reveal the required amount of ingredients.