Silver Dollar Creamy Vanilla Protein Shake Pancakes
---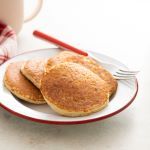 4.9g
Glucides nets Atkins™
Prep Time:5 Minutes
Style:American
Cook Time:45 Minutes
Phase:Phase 2
Difficulty:Moderate
* Any adjustments made to the serving values will only update the ingredients of that recipe and not change the directions.
Comment sont calculés les glucides nets?
---
INGREDIENTS
0 3/4cupAlmond Flour, Blanched

3TbspCoconut Flour

1 1/2tspErythritol

0 3/4tspSalt

0 1/2tspBaking powder

2eachEgg

1cupAtkins Creamy Vanilla Shake

0 1/4cupButtermilk, whole milk

4tbspButter, unsalted
DIRECTIONS
In a large bowl, whisk together the almond flour, coconut flour, erythritol, slat, and baking soda.

Separate the eggs, melt the butter and set aside to cool. In a medium bowl, whisk together the egg yolks, shake, and buttermilk. Add in the cooled butter and whisk again.

Add the shake mix to the dry ingredients and whisk until smooth. Add in the egg whites and stir until smooth and evenly incorporated. Set aside to thicken for 5 minutes

Warm a large non-stick skillet or griddle over medium heat while the batter thickens. Reduce heat to low and use a large soup spoon to create 5 3-inch round pancakes. Cook for 4 minutes on each side, flipping carefully. Keep prepared pancakes warm in a 200°F oven. Each serving is 4 3-inch pancakes.
Cooking Tip