Slow Roasted Chicken with Cauliflower Bake Recipe
---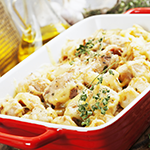 9g
Glucides nets Atkins™
Prep Time:10 Minutes
Style:American
Cook Time:110 Minutes
Phase:Phase 2
Difficulty:Difficult
* Any adjustments made to the serving values will only update the ingredients of that recipe and not change the directions.
Comment sont calculés les glucides nets?
---
INGREDIENTS
32oz with bone and skinChicken Breast

3cloveGarlic

1tspThyme

2tablespoonOlive Oil

1head, medium (5-6" dia)Cauliflower

1cupTomato Sauce

1cup, shreddedMozzarella Cheese (Whole Milk)

0 1/4tspCrushed Red Pepper Flakes
DIRECTIONS
Preheat oven to 300°F.  Prepare a sheet pan with aluminum foil. Set aside.
Mince 1 clove of garlic and fresh thyme then blend together with olive oil, salt and freshly ground black pepper to make a paste.  Coat the chicken breasts with the paste then roast for one hour on the sheet pan.  Allow to cook then remove the bone and slice.
While the chicken cooks, cut the cauliflower into pieces and boil or steam until tender; drain well and set aside. 
Combine the tomato sauce, 2 minced garlic cloves, mozzarella cheese, chili pepper flakes, the chicken slices and the cauliflower to a baking dish.  Bake for 40 minutes uncovered until hot and bubbly. 
Cooking Tip
Whether you're feeding a family or cooking for one, you can update the serving settings above to reveal the required amount of ingredients.