Spring Vegetable Soup Recipe
---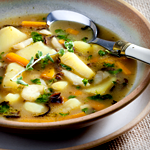 8.3g
Glucides nets Atkins™
Prep Time:10 Minutes
Style:American
Cook Time:15 Minutes
Phase:Phase 2
Difficulty:Difficult
* Any adjustments made to the serving values will only update the ingredients of that recipe and not change the directions.
Comment sont calculés les glucides nets?
---
INGREDIENTS
3tablespoonVegetable Oil

4eachLeeks

0 1/2lbAsparagus

1largeSummer Squash

4ozSnowpeas (Pea Pod)

0 1/2tspSalt

0 1/4tspBlack Pepper

314.5 oz canChicken Broth, Bouillon or Consomme

14 1/2fl ozTap Water

0 1/4cupParsley

1tspLemon Peel
DIRECTIONS
Heat oil in a large soup pot over medium-high heat.
Add leeks and cook 2 minutes, until softened, stirring occasionally. Add asparagus and cook 2 minutes, until color brightens.
Add squash and pea pods and cook 2 minutes, or until squash begins to soften. Add salt, pepper, broth and water; bring to a boil.
Reduce heat to low and simmer 5 minutes, until vegetables are tender. Just before serving, stir in parsley and lemon zest.
Cooking Tip
Did you know that you can easily portion out and freeze soup to save for a busy night down the road? When ready to reheat, either microwave or heat up in a pot over the stove with a splash of water.