---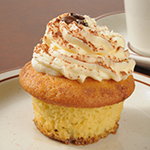 3.1g
Glucides nets Atkins™
Prep Time:25 Minutes
Style:Italian
Cook Time:15 Minutes
Phase:Phase 1
Difficulty:Difficult
* Any adjustments made to the serving values will only update the ingredients of that recipe and not change the directions.
Comment sont calculés les glucides nets?
---
INGREDIENTS
3tablespoonUnsalted Butter Stick

3largeEgg (Whole)

0 1/4cupSucralose Based Sweetener (Sugar Substitute)

4tspVanilla Extract

1/4 cupOrganic High Fiber Coconut Flour

0 1/4tspBaking Powder (Straight Phosphate, Double Acting)

0 1/4tspSalt

4ozMascarpone

5TbspXylitol

1 1/4tsp dryCoffee (Instant Powder)

0 1/2cupHeavy Cream

0 1/2fl ozTap Water
DIRECTIONS
Xylitol is used in combination with sucralose in this recipe to provide a more rounded sweetness. Xylitol usually comes granulated but is better incorporated if it is powdered before use. Please measure first then powder in a blender.
Cupcakes:
Preheat oven to 375°F. Prepare a muffin tin with paper or foil cups.
Using an electric mixer blend together the butter and sucralose until light and fluffy; about 2 minutes. Add eggs, 1 tsp vanilla, coconut flour, baking powder and salt. Blend until smooth then fill 6 muffin cups and bake for 15 minutes or until cooked through. Allow to sit for 5 minutes in the tin then place on a cooling rack.
Soaking syrup: combine 2 tsp vanilla, 2 Tbsp xylitol, 1 tsp espresso powder and 1 1/2 Tbsp water. Prick cupcakes with a tooth pick and pour 1 tsp soaking syrup per cupcake over the top.
Mascarpone Frosting:
Beat together the mascarpone cheese, 3 Tbsp xylitol, 1 tsp vanilla and 1/4 tsp espresso powder until smooth.
In a separate bowl whip the heavy creamy until stiff peaks form.
Fold the whipped cream into the mascarpone mixture until combined. Place mixture in a pastry bag fitted with a fancy tip or simply use a plastic sandwich bag with a corner cut off. Pipe the frosting onto the cooled cupcakes. Best if served the same day or they may be refrigerated overnight in an airtight container. Serve at room temperature dusted with cocoa powder and topped with crushed espresso beans if desired.
Cooking Tip
We love the idea of customizing this recipe to make it your own! If you add any ingredients, just be sure to keep an eye on net carbs.