Keto Turkey Breakfast Meatloaf Recipe
---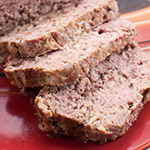 2.9g
Glucides nets Atkins™
Prep Time:15 Minutes
Style:American
Cook Time:55 Minutes
Phase:Phase 1
Difficulty:Difficult
* Any adjustments made to the serving values will only update the ingredients of that recipe and not change the directions.
Comment sont calculés les glucides nets?
---
INGREDIENTS
110 oz packageFrozen Chopped Spinach

4stalk, medium (7-1/2" - 8" long)Celery

1medium (approx 2-3/4" long, 2-1/2" dia)Sweet Red Peppers

24oz, raw (yield after cooking)Turkey Breakfast Sausage

1 1/2lbGround Turkey

6largeEgg (Whole)

1smallOnions

0 1/2tsp, groundThyme (Dried)

1medium (approx 2-3/4" long, 2-1/2" dia)Green Sweet Pepper

0 1/8tspNutmeg (Ground)

0 1/8tbspRed or Cayenne Pepper
DIRECTIONS
Preheat oven to 350°F.  
Thaw the spinach and coarsely chop.  Dice the celery, bell peppers and white onion.
Combine the ground turkey sausage and turkey, spinach, celery, bell peppers and onion until thoroughly mixed. 
Add the eggs, thyme, cayenne, nutmeg, 1/2 teaspoon of garlic powder (if desired) and season with salt and freshly ground black pepper.  Distribute evenly and place in two standard quick bread pans (4x9 inches).  
Bake until cooked through and browned on top; about 55-65 minutes.  Serve immediately or freeze in individual portions for up to 2 months.  
Cooking Tip
Whether you're feeding a family or cooking for one, you can update the serving settings above to reveal the required amount of ingredients.